First Finish, I Wish I Worked Here
June 18, 2020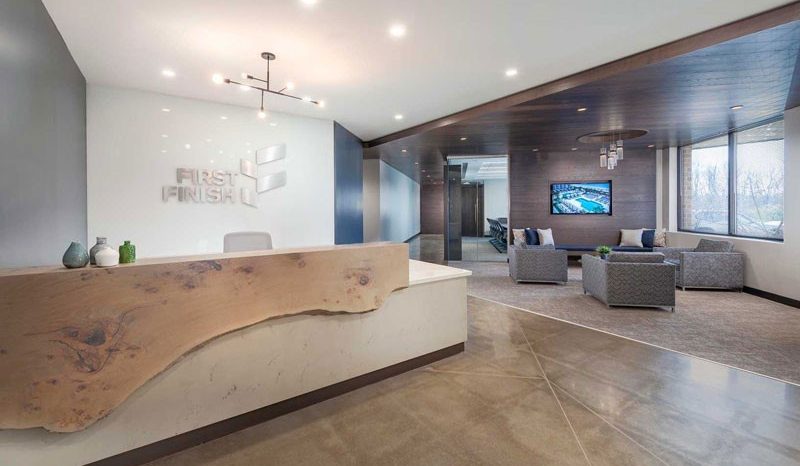 I Wish I Worked Here is a series full of attractive workspaces that stimulate the mind and senses. We cannot peel our eyes away from these spaces!
Walking into a thoughtfully appointed boutique hotel brand elicits emotions of reassurance and calm, knowing you will be well taken care of for the length of your stay. It's the little things that matter, a warm welcome, good coffee, a nice bar with cozy seats and access to Wi-Fi. With these as a combination of product and service, first impressions are critical. From the moment you check in, when service is sincere and genuine, each guest feels unique. This is brand experience emphasizing human connections.
When First Finish, a full-service general contractor specializing in high-end hospitality renovations, needed a new home to grow into, they wanted more for their 20-year-old company than just a shiny new office. They wanted to change the way people connected with their workplace by thinking "beyond the build" and bringing their brand to life by integrating elements of a thoughtfully designed hotel atmosphere.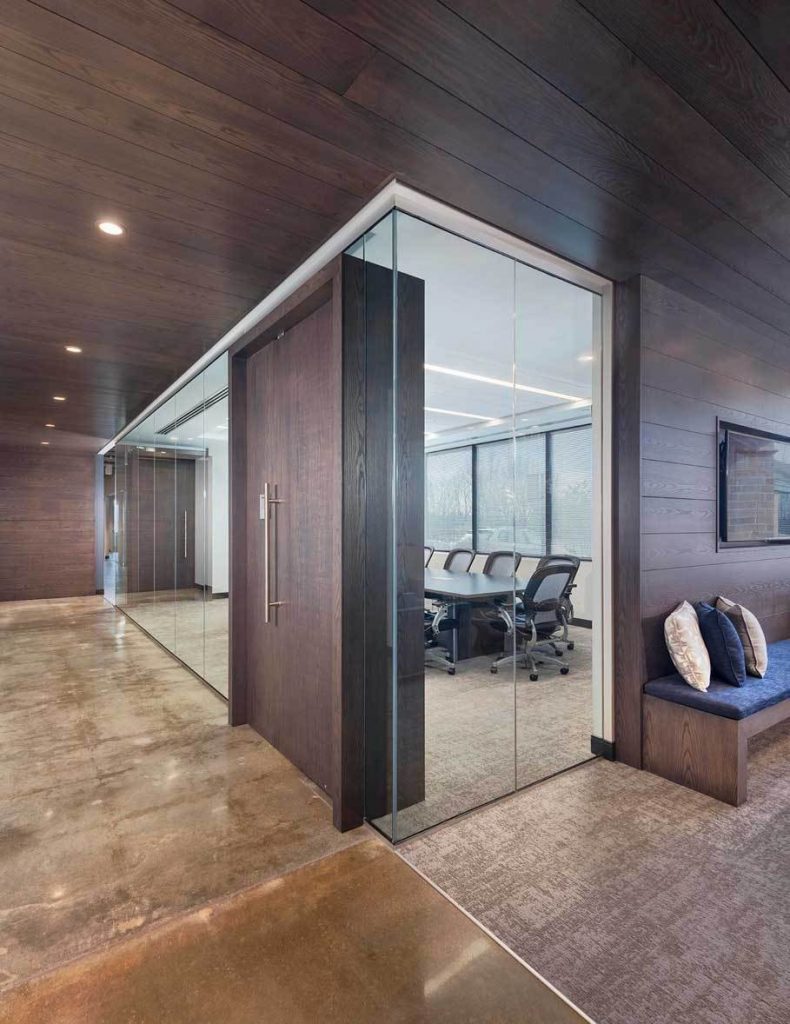 The entry sequence mirrors a hotel experience with a custom reception desk featuring live-edge wood and Corian fused together seamlessly, by design. Sleek back painted glass boasts signage of the brand refresh that accompanied this relocation project. The reception seating area is grounded by a distinctive multi-point lighting fixture, which effortlessly transitions into a feature wood ceiling and wall treatment expressing warm and rich materiality.
The aesthetic is a mix of refined and industrial components, focusing on the concept of connections, which evokes First Finish's desire to be a "bridge" between their clients and builders. The palette uses warm dual-gray tones to provide a more timeless and serene environment. The design also creatively integrates lush textures and materials, familiar to the hospitality industry, with an application that is reflective of First Finish's maturity.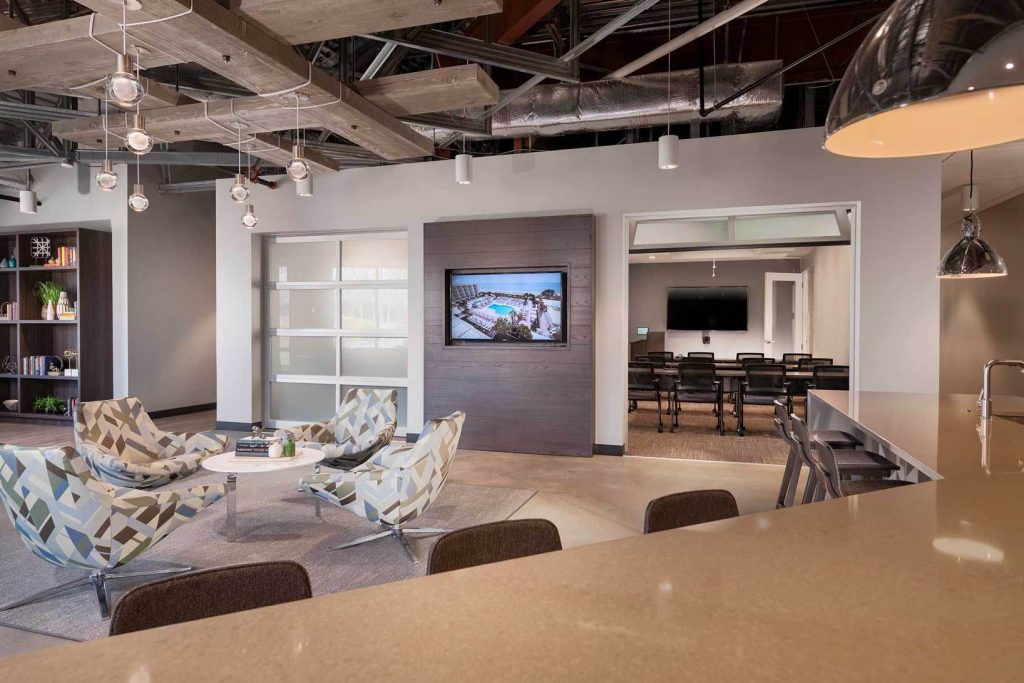 When considering locations for this relocation, daylight was essential to the building selection. The design and function of the environment, coupled with a crisp custom lighting solution, creates a warm and pleasing work setting. Another important advancement was a much-needed technological upgrade of the audio-visual system and an integrated, seamless solution to facilitate coordination of First Finish's projects across the country.
Additionally, the space not only better accommodates the firm's current needs, but also allows for growth to continue comfortably. With several meeting and conference rooms, the amenities include a custom café that is a central hub for refueling during a fast paced work day. The well curated snack assortment, gourmet nitro coffee on tap, espresso machines and sub-zero refrigerators convey a sense of luxury.
First Finish now has a workplace experience that brings a more inspiring, big world picture to projects, that has transformed their culture through informed design.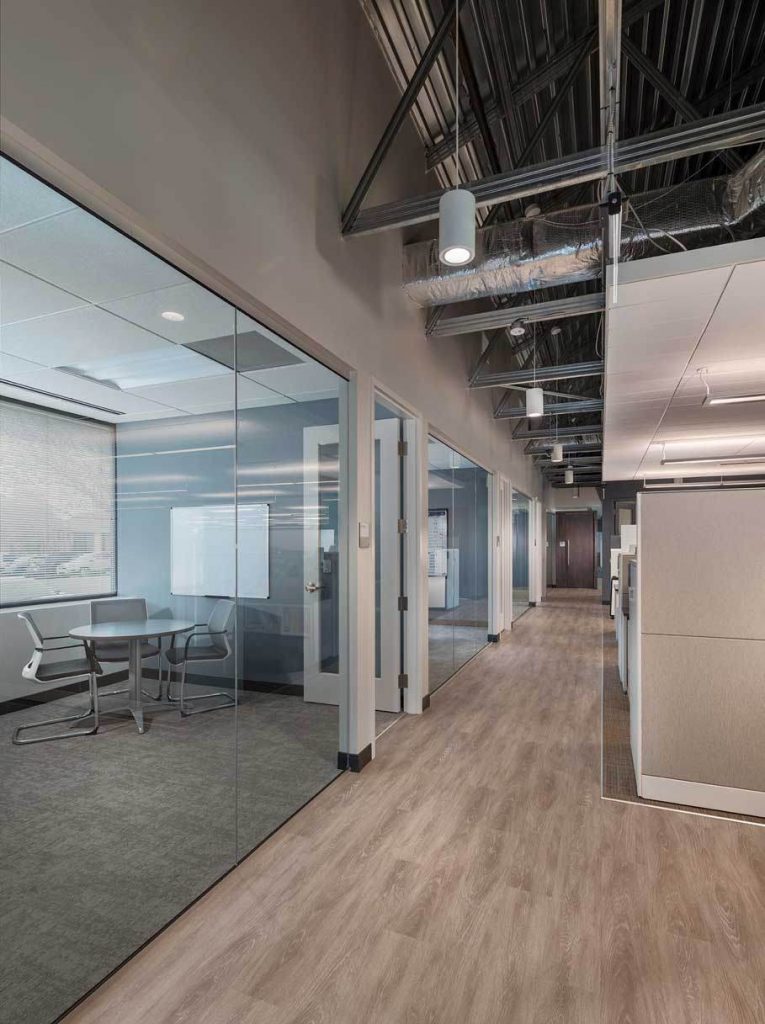 The Verve Partnership used a proven strategy process to analyze the way First Finish used their space, how their team interacted, and their plans for growth. Our process led to tangible improvements that included greater leadership visibility, increased collaborative space, up-leveling of spatial agility, and an environment that supports the health and well-being of its users.
By aligning physical workplace with culture, The Verve Partnership drives desired brand beliefs through the design of the built environment.