AKA to open in downtown West Palm Beach, Fla.
November 21, 2022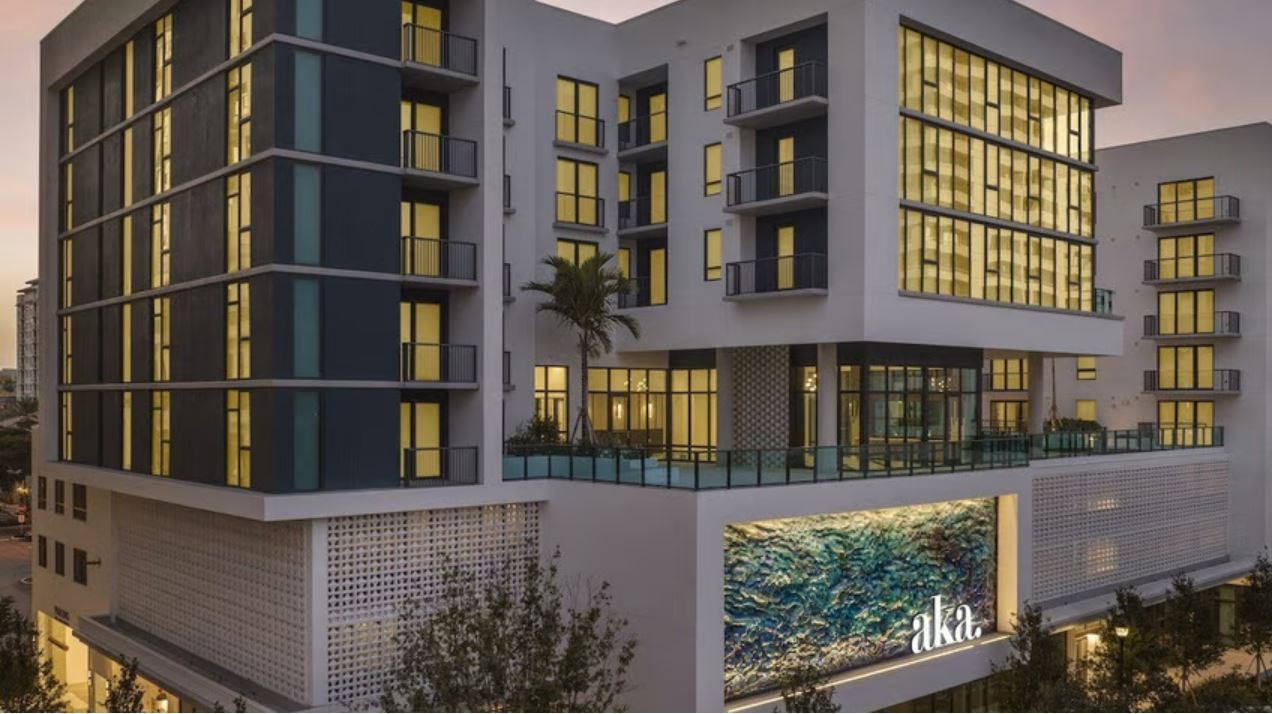 By Esther Hertzfeld – Nov 16, 2022 10:13am
AKA is set to open its second South Florida location, AKA West Palm, on Dec. 1. in West Palm Beach's central business district.
The five-story property has 215 new hotel residences comprised of studios, one- and two-bedroom accommodations and penthouse suites. En-suite amenities include kitchens, washers and dryers and private terraces while public spaces have an indoor/outdoor lounge and bar, a resort-style pool and deck, a Technogym, an executive conference room, smaller conference nooks and a dedicated pet spa.
South Florida Aesthetic
The glass-enclosed lounge has high ceilings to complement the waterfront views. Natural light accents the Carrara marble and contrasts with charcoal wood detail.
Beyond the terrace lounge and bar is a pool area with landscaping and elongated fireplaces for cooler nights. A Technogym fitness center has Technogym coaches. The hotel also has a private conference space available to book for executive meetings, with seating for up to 10 people.
Inspired by nature, AKA West Palm's design focuses on eliminating excess. Textural components such as dark wood grain and brushed aluminum create definition throughout the public spaces, which were designed by Claudio Salazar of RooTSDNA and Svjetlana Davidovic of SD3SIGN. AKA's VP of Design, Nicholas Cardone was responsible for the room furnishings, which are set against a backdrop of stone, metal and wood that together create clean lines and minimal contrast.
The exterior of the building displays artwork by Pere Gifre called "Current," an ocean-inspired, large-scale piece that guides guests toward the property's lobby. This piece uses more than 200 colors to create a realistic ocean, capturing hues, textures and reflections. Gifre's sculptural work is based on the interaction and study of water and its beauty, purity and force.
The parking garage has "stay happy, stay aka" custom graffiti-style mural by Corey Paige Designs. To complement the "Current" piece, the mural is designed with blue and green spray paint, consisting of smiley faces, hearts, and peace signs.
Location, Location, Location
AKA West Palm is adjacent to events and cultural arts hub Rosemary Square and is within walking distance of historic Clematis Street.
"With an influx of visitors from the Northeast, we are already seeing interest from travelers familiar with the AKA brand and our properties in New York City, Philadelphia and Boston," AKA CEO Larry Korman said in a statement. "As West Palm's reputation as 'the Wall Street of the South' develops, we are confident that those who are traveling for work will be delighted to make a home away from home at AKA."
A mile from the Brightline train station, AKA West Palm expects to service a steady flow of corporate travelers throughout the year. AKA West Palm has a terrace lounge and bar designed to feel like an extension of AKA's residential living rooms.
AKA West Palm is pet-friendly and is home to the brand's first-ever pet spa.
Coming in 2023, the property will have food-and-beverage options in partnership with West Palm restaurants The Blind Monk and Egg Bar.