The Hotel at the Arundel Preserve begins renovations
November 15, 2023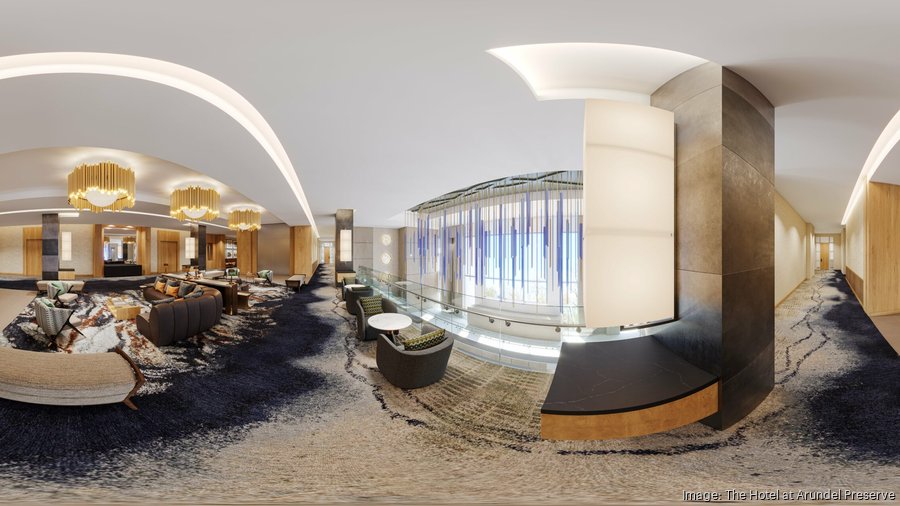 The Hotel at the Arundel Preserve is beginning renovations of the property's 10,000-square-foot lobby and 15,000-square-feet space encompassing nine meeting rooms and pre-function spaces.
"This renovation is a further commitment to our guests, visitors and the community," April Richmond, general manager at The Hotel at Arundel Preserve, said in a statement. "The enhancements will reenergize our spaces and provide our wedding, meeting and other guests with a refreshed and contemporary look while being respectful to the tremendous architecture of the hotel."
The Hotel at Arundel Preserve was built in 2011 and is 7.5 miles from Baltimore/Washington International Airport. The renovation is the first in the history of the hotel. It will invigorate the lobby area, creating an improved flow, additional seating groupings and an inviting environment. The improvements to the meeting spaces bring new seating options in pre-function areas, lighting and furnishings. Additionally, all spaces will be outfitted with new finishes.
"As a LEED Silver-certified hotel, bringing natural elements into the hotel's design complements our commitment to being an eco-friendly, environmentally conscious property," said Richmond. "Water will be subtly incorporated into the new design, artistic LED light fixtures will mimic natural elements such as wood and water, and amorphic, refined finishes will connect to the history of Anne Arundel County, which has been a home to summer resorts since the 1880s."
During renovations, the hotel will remain open with very limited, if any, impact to guests and no impact to the hotel's two restaurants, Grillfire and Anejo Rose.
The Hotel at Arundel Preserve is owned and operated by Southern Management Companies. Elementum Interiors of Columbia, S.C., designed the renovation, and First Finish, Inc. of Columbia, Md. will complete the renovation. The renovation starts Dec. 1 and is scheduled to be completed by Feb 29.