New eatery at Orlando World Center Marriott focuses on local ingredients
April 4, 2018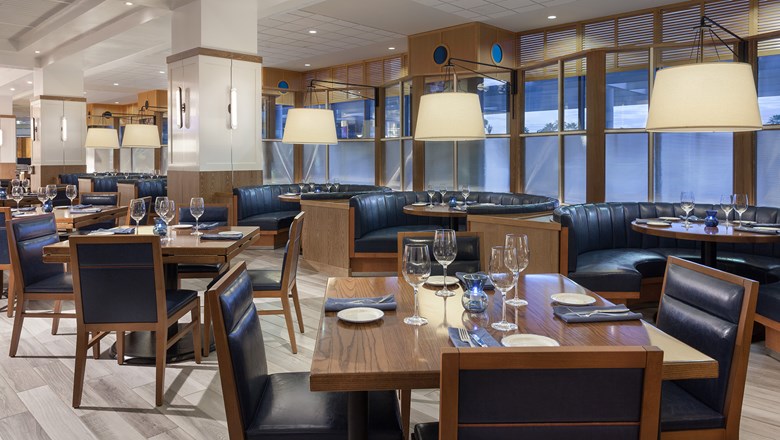 By Holly V. Kapherr 
The world's largest branded Marriott property, the Orlando World Center Marriott, with more than 2,000 rooms, has just opened an equally immense dining experience, Latitude & Longitude, on the first floor of the property in Lake Buena Vista, just outside Disney property.
The restaurant is Southern-inspired, with menu items drawing from the diverse land and sea offerings of the area. Little-known regional ingredients pepper the menu, including red peas in a braised crispy pork belly appetizer.
Executive chef Eric Martinez has taken care to cultivate relationships with local farms, with menu items that include Lake Meadows Naturals dairy products and Ocala-based Seminole Pride steaks. The smoked fish dip, served with housemade crackers, is made from mackerel fished from the Jacksonville shores.
Two private dining areas skirt the edges of the restaurant, and the expanded bar area serves craft cocktails like the Rose Bramble, with St. George citrus vodka, smashed blackberry and lemon rose.
An on-site, state-of-the-art hydroponic garden will provide produce to the hotel's restaurants, and the glass building where the garden is located glows pink (a combination of the red and green grow lamps) and will serve as a centerpiece for the hotel's newest outdoor event space.
Latitude & Longitude will be open for breakfast, lunch and dinner and can accommodate 500 guests for breakfast and lunch, 200 for dinner and a total of 700 for special events, making it one of the area's largest restaurants by guest volume. For guests coming back from the parks in search of light bites to quell hunger before dinner, the Bar Bites menu is a pared-down selection of specials as well as menu favorites and are served at the bar between 3 p.m. and 6 p.m.