Renovation at Four Seasons Palm Beach reaching midpoint
August 4, 2018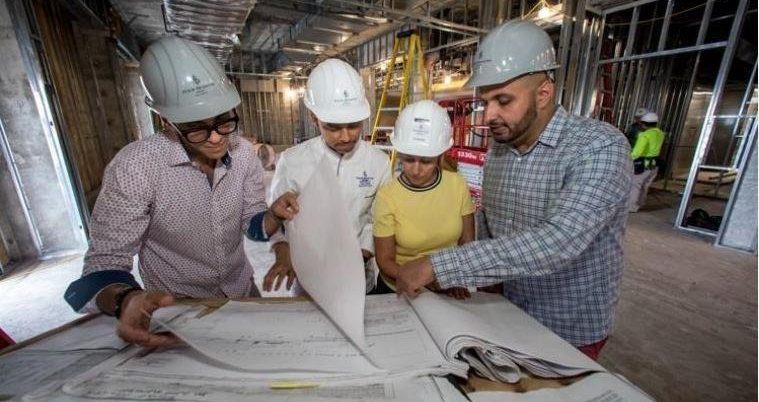 By John Nelander
The Four Seasons Resort Palm Beach hasn't had a guest since May 29, but it's an epicenter of activity this summer as a $45 million renovation project nears its midpoint — and staff members gather for ice tea and table talk at a weekly catered lunch.
The hotel is closed for five months for the first time in its 28-year history and will reopen Nov. 1.
"We're pretty much on schedule," General Manager Mohamed Elbanna said during a tour of the hotel in late July. "There were a couple of hiccups in the beginning, but that's to be expected. We may be a little ahead in certain areas and a little behind in others but overall we're on track."
An artist's rendering of the upcoming beachfront restaurant at the Four Seasons Resort in Palm Beach. Contributed by Four Seasons Resort
The restaurant — two eateries now combined into one running the length of the main building — is taking shape with an open kitchen. Windows facing the beach are boarded up with plywood but will eventually be replaced with floor-to-ceiling glass.
"We're trying to bring that South Florida indoor-outdoor lifestyle," said Laurie Herrick, public relations director.
The signature restaurant will feature a Michelin-starred chef who will be announced later.
The Four Seasons Resort Palm Beach is remodeling its current pool to give it a modern aesthetic. In addition, a new adult only pool is being added and new Cabana Terrace Rooms, complete with stairs that will lead down to new cabanas and elegant teak lounge chairs. (Damon Higgins / Daily News)
Pool improvements and more
One of the improvements to the pool deck is a second adults-only pool, which has been poured to the north of the existing one. It was one of the items that came up while talking with guests, Elbanna said.
The new pool, which will be separated from the other by greenery, "will be a little more of a romantic setting," he said.
Guest comments were combined with ideas by hotel owners and run through architects and designers to come up with the final renovation plans for the horseshoe-shaped resort.
Another suggestion was direct pool deck access. Ground-floor rooms in the north building are being fitted with steps that will lead from an extended balcony directly down to the deck.
"We're calling them cabana rooms," Elbanna said. "They have a little different look and feel from the rest of the building. The railings will go away and the balcony will be squared out."
A rendering shows the new balcony railings and revamped pool area that have been designed for a renovation at the Four Seasons Resort Palm Beach. The projects are part of a more extensive project approved two years ago but since scaled down. Rendering by Martin Brudnizki Design Studio, courtesy Town of Palm Beach
Interior walls in the hotel's main building were going to be changed out as needed, but now they have been stripped down to the steel studs to make it easier to accommodate new wallpaper.
"We've also done a lot of infrastructure work," he said. "We've improved the air quality and we've done mechanical work. This is a 28-year-old building, so we're looking to the future."
The project is going to be topped off with the installation of a 150-year-old banyan tree to be moved from Tequesta and replanted in front of the building.
"It's eventually going to cover the whole entrance of the hotel," Elbanna said.
Four Seasons Resort Palm Beach assistant managers Rachel Blauvelt and Eric Bonilla take part in the resort's July 27 Friday Family Meal with their fellow employees. (Damon Higgins/Daily News)
Summer outreach and staff meals
Managers of the resort, which employs 345 people, came up with a plan to keep staff working during the five-month project. Fifty are doing their normal hotel duties in sales, catering and other jobs, while 56 more have been posted to other Four Seasons hotels.
Most of the remaining staff are pursuing community service work this summer at 30 local charities, including The Soup Kitchen, Big Dog Ranch Rescue, Loggerhead Marinelife Center and Peggy Adams Animal Rescue. They maintain pay and benefits.
"It was a costly decision but a simple one," said Elbanna. "This resort has been successful because of its people."
On Fridays, the 50 in-house staff members, and anyone else who might be available, meet at the resort for a meal prepared by local restaurants.
Betty Taylor, sales assistant, said she uses the get-togethers to catch up with other employees. "There's always a lot of camaraderie."
The upcoming signature restaurant at the Four Seasons Resort in Palm Beach, as rendered by an artist. Contributed by Four Seasons Resort