These hotel rooftop bars offer excellent – and very different – views of D.C.
October 18, 2021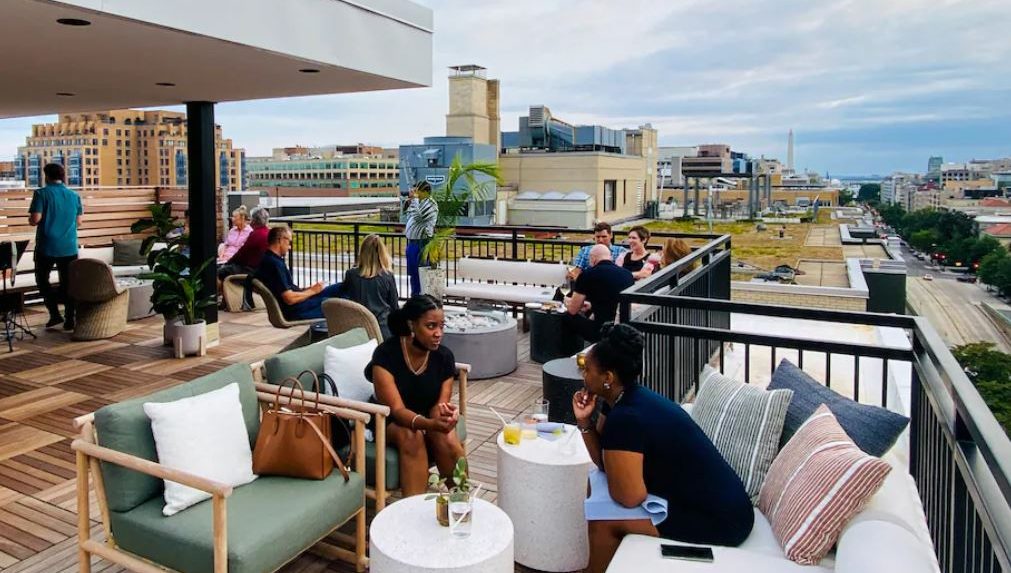 Lady Bird is the new rooftop bar at the Banneker, a Kimpton hotel located just north of Scott Circle. The outdoor space has views of the White House, Washington National Cathedral and other landmarks. (Fritz Hahn/The Washington Post)
By Fritz Hahn
Lady Bird at the Banneker
Kimpton Hotels swept into D.C. two decades ago, when boutique hotels were still a novelty, and livened up the city's staid hotel bar scene with mod designs and buzzy bars. The Hotel Rouge, just north of Scott Circle, opened in December 2001, with a racy red decor, leopard skin rugs and "Adulteress Martini" offerings in the bar. But the concept was showing its age, and in early 2020, Rouge closed for an extended $20 million refresh and rebranding that turned Rouge into the Banneker, named after the Black surveyor and astronomer Benjamin Banneker.
Among the key differences: the Banneker would have a rooftop bar, dubbed Lady Bird, which had to be constructed from scratch. "Nothing existed" atop Rouge, Raeshawna Scott, the general manager of the Banneker, says in an email. "There were just machines on the roof." On Instagram, former Rouge manager and bartender Rico Wisner noted that he grew cocktail ingredients in a small garden on the roof when he was in charge a decade ago.
While the hotel and its French restaurant Le Sel opened in June, delays meant that Lady Bird wasn't unveiled until Oct. 8. After one visit, I was left wondering why the hotel's owners hadn't thought of this long before.
Lady Bird, named after former first lady Claudia "Lady Bird" Johnson, is a gem of a bar, just 1,200 square feet indoors and out on the hotel's 11th floor. The conservatory-like interior, decorated in green and blue jewel tones, is dominated by a chunky square bar at one end, facing a long row of low-slung couches and clusters of chunky wooden chairs. Local artist Meg Biram created a mural of feathers behind the bar; designs throughout are inspired by the wood thrush, the official bird of D.C.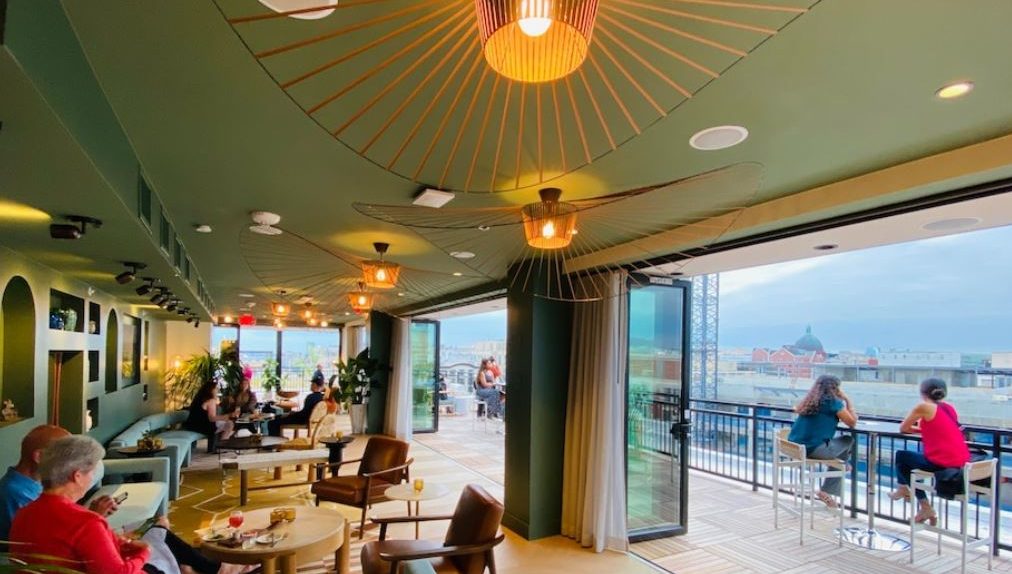 The conservatory-like interior of Lady Bird is decorated in green and blue jewel tones. (Fritz Hahn/The Washington Post)
As nice as the airy room is, you want to head out through the glass doors, which fold up accordion-style, and onto the wooden deck, which runs parallel to 16th Street NW. Peer over the railing and you're staring at the White House's front door, looking at the Washington Monument and Jefferson Memorial beyond.
Take a seat at one of the mod sofas paired with cylindrical tables, at a high two-top table or around an inviting firepit, and wherever you perch, there's a landmark to spot: Washington National Cathedral, the lantern of St. Matthew's Cathedral, the towering Cairo condominium building, cranes building the Australian embassy just across the road. (Okay, maybe not that last one.)
The cocktail menu is small — just six choices on opening weekend, including the lush Bramble, made with Old Forester, Pimms and blackberry liqueur, and the intriguing O Captain, My Captain, which got its funk and tartness from aged rum, Angostura bitters and carrot juice. The 20 wines by the glass include a handful of local options, including Maryland's Big Cork and Virginia's Barboursville and Paradise Springs. Food options, which come from the same kitchen as Le Sel downstairs, are for snacking: dips, cheese and charcuterie, a plate of french fries topped with pork belly and shaved Comte cheese.
Live music was featured as part of Lady Bird's debut — indie-soul group Oh He Dead performed a stripped-down set last Friday — and Scott says that future programming will include "different levels of artistry including live music, painting demonstrations, DJs, etc.," though the calendar is still coming together.
One question is how popular will Lady Bird become: On opening weekend, tables were first-come, first-served, and staff made sure all customers were seated, not standing around the bar. On the way out, we saw customers asking the concierge about Lady Bird, being told there was a 20- to 30-minute wait to enter, and directed to Le Sel's bar to wait.
1315 16th St. NW. thebanneker.com. Open Wednesday through Saturday.